Courtesy of Ben Jacobs, TheGuardian.com, November 14, 2018.
Proportion of Democrats who are white men will drop from 41% to 38% while Republican figure will climb from 86% to 90%.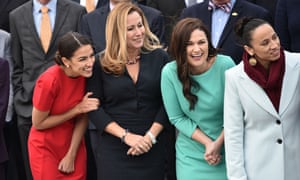 Pictures of the newly elected members of the House of Representatives have highlighted a stark difference between the diversity of incoming Democrats and incoming Republicans.
The 2018 midterm elections helped Democrats elect a diverse class of incoming members but the losses suffered by Republicans made their House caucus even more white and male.
The proportion of white men within the Democratic caucus is set to drop from 41% to 38% next year, while the same percentage is set to rise among Republicans from 86% to 90%.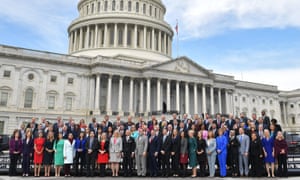 Republicans partly suffered because of a wave of retirements among female members.
Further, the Democratic "blue wave" led to the defeat of a number of potentially historic members of their caucus. In Florida, Carlos Curbelo, a leading moderate of Cuban descent, lost his seat and in Utah, Mia Love, a Haitian American, is trailing in a race that has yet to be called.
In California, Republican Young Kim, who would have been the first Korean American woman elected to Congress, is also in a race that is too close to call. Eddie Edwards, who would have been the first African American elected in New Hampshire, lost his race.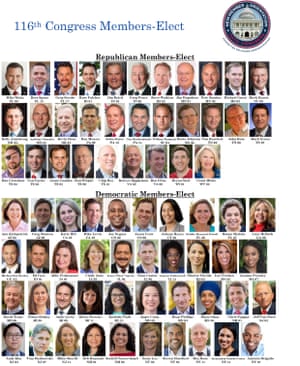 In contrast, Democrats celebrated numerous historic firsts on election night. Among them, Alexandria Ocasio-Cortez became America's youngest congresswoman, Rashida Tlaib and Ilhan Omar became the first Muslim congresswomen, and Sharice Davids and Deb Haaland became the first Native American congresswomen.