courtesy of Simon Hattenstone, theguardian.com, December 30, 2015
You want to know why Aretha is the indisputable Queen of Soul? Watch this. You want to know why hacks like me send her fan mail by the week pleading for an interview, knowing there is sod-all hope, but not resenting her one smidge? Watch this.
Aretha is performing at the 38th Annual Kennedy Center Honors, held on 6 December in Washington and broadcast on CBS on Tuesday night. It wasn't even Aretha's night. Oh no. This ceremony was to award, among others, Rita Moreno, George Lucas and Carole King. Then up steps Aretha to sing the King/Goffin/Wexler 1967 classic (You Make Me Feel Like) A Natural Woman.
Look at King, open-mouthed in shock and awe (the right kind of shock and awe); and this is before Aretha's even opened hers. Everything about Aretha is astonishing:  the range, depth, control in her voice, the phrasing, the passion, the playing, the floor-length fur, the sparkling clutch purse. The more Aretha sings, the harder it is to believe that King is not going to die and go to heaven. President Obama is wiping away tears before Aretha's even done with the first verse. Aretha is 73, looks wonderful, and might just be singing better than ever.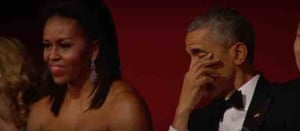 To top everything, she throws the mink to the ground with supreme elan. Nobody chucks a fur like Aretha. This is not the performance of the year, it's the performance of the millennium. Long live the Queen.